John Aram CD Rhapsody in Red
Rhapsody in Blue was probably the first jazz suite, which was composed by the great George Gershwin back in 1924. This suite was also performed at Carnegie Hall in the early 20s. Trombonist John Aram paid tribute to this suite with "Rhapsody in Red" with a big orchestra.
More information about this project you can find here:
https://jazzfuel.com/project/john-aram-united-underground-locke-garland-rhapsody-red/
The following secition is a quick Q&A with John Aram. Enjoy!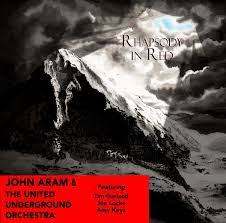 How the project "Rhapsody in Red" came about? 
This was the second large scale project with this band. The first project has yet to be released.
The band came about because of a collaboration with my very good friend and incredible composer and saxophone player Tim Garland. Many people know Tim best for his long time collaborations with Chick Corea, either playing in Chick's bands or arranging orchestral and other music for Chick. Tim had a band in London that played every week at the Pizza Express Jazz club in Soho. It was a 9 piece band, very similar to the one up we have here. The band was fantastic but, as is often the case, people went their own way and had other projects happening which mean't that the band stopped playing. I contacted Tim in 2018 to see if he would be interested in putting together a band with me and writing some new music.
Tim wrote a great suite of music called Round Trip, which we are hoping to release in the new year. We toured this music but never released the album
I particularly wanted to have a band made up of some great friends and great players in London and my "local" greats in Switzerland, my adopted country. I was really motivated by the different sounds and artistic directions of the players from each country.
Rhapsody in Red came about in 2020 and we recorded this just before Covid closed everything down. We had quite a few dates lined up and wanted to play this new material. Of course, you know what happened next…
We lost these dates and after Covid we have had some difficulties getting the band back on the festival circuit. Brexit and travel restrictions have had a big impact on this.
How long does it took you to get this music together?
Rhapsody in Red was probably the music that took the longest to write. Tim was obviously inspired by Gershwin's masterpiece and wanted to explore this in a mode jazz setting.
Some of the other music was new arrangements of older songs. I guess there was about 3 months of writing the repertoire.  We recorded this over two days in the studio. We did add some overdubs later but you won't tell anyone that will you?
The sound of the record reminds me of the great Francy Boland/ Kenny Clarke Big Band. This band was a big band chamelon. Was this sound for you on inspiration?
Yes, what a wonderful band this was and the similarities are perhaps the emphasis on the writing and also having just the right musicians to play the music. I care very much about working with people that I like and who are friends. I think this makes a huge difference to the music.
The vibraphonist Joe Locke gets a lot of solo space in this record? What that an intention from you?
The intention was really to feature Joe as a guest with the band.  The band is really very rooted in european players with a special emphasis on the musicians from Switzerland or London. Both Joe and Amy were special gusts on this project which is very different to "Round Trip" which really features the band and every member gets equal soloing opportunity.
I love the horn passages, which play so nice rich harmonies in unisono. How you picked this horn section for the record? 
The horn section are all really good friends and people I have immense respect for. Graeme Blevins and I have been playing together since 2009 when we toured and recorded with Phil Collins. Graeme has been an important member of my quintet for many years. Tom Walsh is a young superstar on trumpet and coupled with the amazing sound and atmosphere of Jeff Baud, who is the trumpet professor at the Haute école de musique in Lausanne and a really in demand player in Switzerland and his native France. Matthias I got to know when I was conducting the Swiss Jazz Orchestra and loved his playing and his attitude. Tim Garland and I recorded an album back in 2003 and have had on and off collaborations since that time. I truly believe that Tim is one of the very greatest musicians working in any medium. A great composer and a wonderful and very charismatic sax player, who also plays great on bass clarinet.
Your singer Amy Keys remind me of old soul singers form the 60s. What you like best in the singing style for Amy Keys?
I met Amy working with Phil Collins. She has worked with just about every pop singer on the planet but more importantly was a key member of Herbie Hancock's touring band.
The song "We Got a Future" is the only song with an extra Radio edit. Is this song intended to be the hit song of your record "Rhapsody in Red"?
No, it wasn't intended to be the hit song but it is perhaps the only track on the album that could pass as a "pop" format song that could work on radio. The reason for the radio edit was quite simple and I think you would guess when hearing the full version which is also on the album where the band stretches out much more.  There is sadly no bass solo on the radio edit version. Phil Donkin, again a great friend and long time colleague who is now based in Berlin (and has been for many years) is also a member of my quintet and other projects since around 2008.
Would be this record possible without the Corona crisis?
The Covid, Corona crisis mean't that this record almost didn't make it to the release stage. We ended up putting the finishing touches at a distance which is not at all the way I like to work. With a large ensemble like this it is very challenging to find tour dates….. but we're working on it.
When we can hear this music live in Germany? 
I hope that soon we get an opportunity to play this music in Germany. Realistically it needs probably to be in a festival setting as most clubs struggle to host large ensembles like ours. We would love to come and show you this music live along with the music from "Round Trip" which is equally exciting music.