Binker Golding Interview
Binker Golding is a musician of many talents: skilled composer, educator at Tomorrow´s Warriors, frequent collaborator with top musicians from the London jazz scene, and last but not least one of the most impactful saxophonists of our times.
Born and raised in North London, Golding has recorded and performed regularly with the city´s finest: Zara McFarlane, Moses Boyd´s Exodus, Sarah Tandy and Maisha amongst others. He has learned from and played alongside many great saxophonists, including Steve Williamson, Jason Yarde, Denis Baptiste und Gliad Atzmon. An all-rounder musician, he is the Musical Director of the Tomorrow´s Warriors Youth Orchestra and has composed concert repertoire and conducted the Nu Civilisation Orchestra.
His main projects include free jazz duo Binker & Moses. The pair scooped up a MOBO award for their debut album "Dem Ones" (2015) as well as two Jazz FM awards and a Parliamentary Jazz award. Their subsequent album "Journey To The Mountain Of Forever" was voted #1 Urban Album of the Year by MOJO magazine in 2017.
For more information please visit https://www.binkergolding.com/
Binker has just released his latest album "ABSTRACTIONS OF REALITY PAST AND INREDIBLE FEATHERS". I had the opportunity to talk with him about this album and other jazz-related topics, just before he went on his album release tour.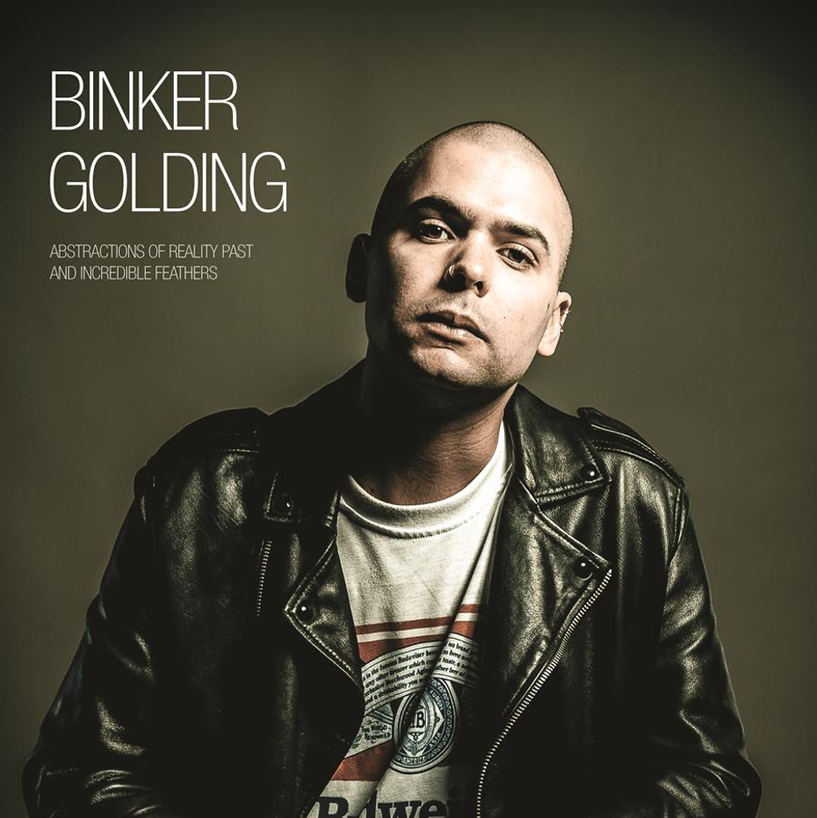 Hello Binker thank you for your time for jazzreporter.com!
Jazzreporter: What does the word jazz mean to you?
Binker Golding: A black American style of music formulated in the late 1890's & galvanised by Jelly Roll Morton in the year 1903.
JP: When did you first discover your love for jazz music?
BG: At about 13 years old. I'd been playing alto saxophone for five years by then but I only really fell in love with jazz & blues around that age.
JP: Who was your inspiration when you started playing jazz music on a professional basis?
BG: My first professional show was at age 16. At that time I was mainly interested in Coltrane, Medeski Martin & Wood & Joshua Redman. I started doing more consistent work at 18 and at that point my influences had become Joe Lovano, Branford Marsalis, Brad Mehldau and still Coltrane.
JP: How did you get the job as Musical Director of The Tomorrow´s Warriors Youth Orchestra?
BG: I basically kept on forcing Gary Crosby to look at my big band scores and convinced him that I could do the job. I had a small bit of experience by that point as I had already put together my own big bands and lead them semi successfully, whilst writing music for them. I basically forced Gary to let me do it. I kept asking him to the point he couldn't say no. I never doubted myself. I really believed I could do it.
JP: Please name your three favourite jazz albums ever.
BG: John Coltrane – Crescent
Joe Henderson – State of the tenor
Miles Davis - ESP
JP: Your latest album "ABSTRACTIONS OF REALITY PAST AND INREDIBLE FEATHERS" has a very long title. What is the story behind the title?
BG: I think it´s better that I don't say. I'd prefer people to work it out or guess. There's a certain beauty in coming up with your own answer to something and not knowing what was really intended. For me that's where the magic lies in art.
JP: How did you write the music for your latest album "ABSTRACTIONS OF REALITY PAST AND INREDIBLE FEATHERS"?
BG: I just sat down and wrote as I always do. I force myself to write. My composition teachers trained me not to rely on inspiration and rather to rely on my technique, although inspiration is a part of it. I started writing and I realised that all the music felt like people I'd known in my past. Some who were no longer in my life, some who were dead, but all people that I had loved in one way or another. People that I hoped were ok, even though I hadn't seen them for a while. I realised the music was about them. I didn't plan it that way, it just happened. I don't believe in planning what you're going to do when it comes to art. I believe in relying on the subconscious.
JP: How was it for you to record in the famous Abbey Road studio?
BG: I was very happy to be there because we had a very good engineer, Matt Mysko, and very good equipment. I chose the studio because it was one of the few studios that could really do what I needed on a technical level. I didn't go there because of the Beatles or Herbert von Karajan, as much as I love those people.
JP: What do you like most about your current band?
BG: The fact that they understand my music and aren't afraid of it. Its expressive music and the current band aren't afraid of embracing that.
JP: London has a very famous jazz club - Ronnie Scott's. For many visitors it is the centre of Jazz in London. Has London a big jazz scene?
BG: As the world currently is I'm sure London has one of the biggest jazz scenes. I'd certainly recommend it for jazz lovers. People are always asking me "Have you heard this new band?" My answer is almost always no. This is because I don't really listen to new music but even if I did I wouldn't be able to keep up.
JP: You enjoy performing at jazz festivals in the summer? In many cases there is hardly any jazz content in these summer festivals.
BG: Yes, I greatly enjoy playing at summer jazz festivals. It´s one of the highlights of the year for me. It works for what I do and it works for what many of my peers do, however, it doesn't work for every style of jazz. Festivals in fields weren't invented to accommodate jazz. Jazz is chamber music and it belongs in small clubs. The festivals should perhaps think of a new way of presenting jazz to audiences. 
JP: What do you like most about the jazz clubs in Germany?
BG: The audience. To me it is the audience that always make a place or a club. You can have the greatest club in the world but if the audience is dead, its over. I'd prefer a shit club with an audience that felt and followed every note.
JP: Are you planning to record more albums in the future with your band?
BG: Yes, very much so. I'm already writing the next album. However, it´s taking me a while as there's a lot of music to write for this one. It will be very different. I need the whole world on this next album.
JP: Are you coming to the Stuttgart area any time soon?
BG: I'm not sure, you'd have to ask my agent Matt Fripp. But I hope so.
JP: Thank you for the interview and supporting my blog!