Kristin Korb Interview
Kristin Korb is a singing bass player. She was discovered by the great Ray Brown in the 90s. Over the years she made several critically acclaimed albums. Her latest record "Beyond the Moon" includes famous and unknown songs by the great American songwriter Johnny Mercer.
I met Kristin before her concert at the Bix Jazz Club Stuttgart in early march 2018. Kristin is a very open-minded person. Kristin´s career spans more than 20 years.

For more information about Kristin Korb please visit her website:
http://kristinkorb.com/

This interview was a great pleasure for me.
Jazzreporter: When did you decide to become a bass player?
Kristin Korb: I started playing guitar when I was in third grade. By the time I got into junior high, I really wanted to play for the vocal jazz ensemble. It seemed to me like all the cool kids were there, having fun, and singing this crazy music. I thought I saw a guitar player in the group, but I found out that it was actually an electric bass. I didn't care what it was. I wanted to be in the band. I learned how to play the electric bass and started playing for the vocal jazz ensemble. I picked up the upright bass once I got into high school. It wasn't until I was studying with Bertram Turetzky in graduate school that I really came to understand more and have fun with the bass.
JP: When did you decide to combine the bass with your singing?
KB: My first experience playing and singing at the same time happened back in junior high. I wanted to try out for a scat solo, but I was playing the bass for the vocal jazz group. I worked really hard on being able to do both things at the same time and I won the solo feature. There were a few years after that where I didn't do it as often. I was focusing on developing my playing and singing separately. Once I was in college and started thinking about what I wanted to do for my career, the singing and playing came back together.  
JP: Were you influenced by the great jazz singers like Sarah Vaughan or Ella Fitzgerald?
KB: Being a fan of the music, I just can't help but listen to the CDs until I get to the point where I sing along with everything. I can't pick one person as my only influence. The jazz tradition is just too rich with wonderful singers. Ella Fitzgerald, Sarah Vaughan, Shirley Horn, Carmen McRae, Frank Sinatra, Jon Hendricks, King Pleasure, Mark Murphy, Nancy King and Sheila Jordan are just the beginning of my major influences. When I was starting out on the scene, I used to develop themed programs like vocalese night. I'd learn as many tunes as I could from Eddie Jefferson and Lambert, Hendricks and Ross by listening to the CDs over and over.
JP: How did you meet the great jazz bass player Ray Brown?
KB: I was a big fan of Ray Brown. When I moved to San Diego for graduate school, I found out that he played concerts there every year. I didn't miss a single concert. Ray always hung out after the concert, so it was relatively easy to meet him and thank him for the music. It was through one of those meet-and-greets that I was able to ask for my life-changing bass lesson that eventually resulted in our project "Introducing Kristin Korb". Ray made a huge impact on my life.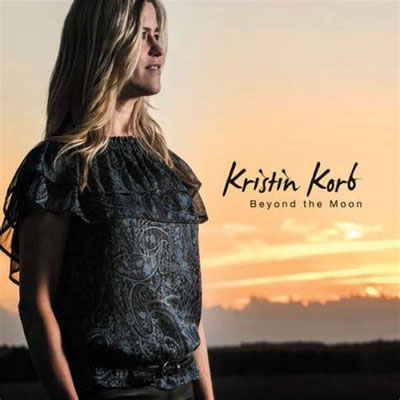 JP: What was the idea behind your own album Finding Home in 2014?
KB: I moved to Denmark in 2011. My first few years were filled with Danish lessons, acclimating myself to being a step-mom and wife, and getting to know my new community of musicians. It was wonderful, but quite intense. I recorded "What's Your Story" in 2012 back in Los Angeles with my mentors Jeff Hamilton (drums) and Bruce Forman (guitar). That was my musical comfort zone and support system.
After that, I was ready to start making roots into my musical life in Denmark. I started writing music about my new adventures and reflections on what it means to move half-way across the planet. I also met and started working with Magnus and Snorre in 2012. Before I knew it, we were a solid band and we had enough music to record "Finding Home". In my travels across Europe, I have met so many people that find their own stories interwoven with these songs. It has been wonderful way to connect with people on this Level.
JP: Your latest record is "Beyond the Moon " a tribute to the great songwriter Johnny Mercer? Why do you like the jazz standards?
KB: The Great American Songbook has a wealth of well-written stories and great melodies. There is a clarity and simplicity in the craft that allows me to look at the story from a different perspective and create arrangements that reflect my own feelings.
JP: What will be your next project?
KB: I'm really excited about our upcoming Christmas project. I recorded with Magnus and Snorre and we had Matthias Heise join us on harmonica. The sound of the harmonica with the voice creates such a cozy vibe. Some songs are ones I grew up with, so they remind me of my childhood and all the excitement that the holidays can bring for the children inside us. Some songs are just "winter" songs of snow, bundling up, and hanging out with your friends. The remaining tunes focus on how we should be treating each other. The holidays aren't always easy for people. This is a good time for us to remember to be aware of those around us, show kindness, and give the gift of love and peace to each other.
JP: What do you like more, recording in the studio or doing live gigs?
KB: For me, playing in the studio and playing for the public are two completely different art forms. They compliment each other in many ways, but they require very different skill sets.
When I'm performing for an audience, my whole purpose is to connect with the people. I tell stories and watch their responses. It is a conversation between the band and the audience. It is different every time because the audiences are very different. In my preparations, I want to make sure I'm technically ready to go, but I forget about all the technical things when I'm on stage. It is much more emotionally driven. I'll often record my live performances so I can learn from them, but I don't let anyone else hear them. Occasionally, I'll release one tune in a video format from a concert on YouTube.
Recording in the studio is much more stressful for me. I have to hear the tracks over and over again during the mixing process and I'm much more focused on things being "correct" than I am in a live situation. I still want the recording to feel inspired and spontaneous, but I don't take nearly as many chances in the studio. It is also different to play when you don't have that automatic response from the audience to encourage you. Every time I finish a studio project, I feel like it is just a snapshot of where I am at that moment in time. When the process is finished, I'm a much better musician because of all the detailed listening and focus that is required. I love it all.
JP: You often perform with the trio. What makes this trio sound so special for you?
KB: Magnus Hjorth (piano) and Snorre Kirk (drums) have been my band mates for over five years now. Over that much time of being on the road together, playing all kinds of venues, developing arrangements and recording together, you build a wonderful family vibe built on trust and mutual respect. It is a lot easier to take chances on the bandstand when you know the guys have your back. They are not only outstanding musicians, but they are incredible people as well.
JP: What does the word "jazz" means to you?
KB: It is a way of life, being present, trying to listen to each other, pay attention and respond to what you are hearing at the moment as a human being.
JP: Which albums do you have in your record collection? Which kind of music do you like?
KB: I moved to Denmark with over 1000 CDs in my collection. I'm guessing that we've doubled that number since then. We have a heavy dose of jazz history in our collection, plus classical, pop, and various projects from my bass family. I like good music. It doesn't have to be jazz, but I do tend to gravitate towards it. It just makes me happy.
JP: What is the difference between the European jazz scene and the American jazz scene?
KB: In general, I think jazz fans are a culture all their own, regardless of what country they are from. They tend to be enthusiastic listeners and they have great stories about their favorite artists and recordings. Audience responses can range a lot depending on geography and cultural habits. I've noticed that some audiences can be especially quiet and tend not to clap much after solos. It isn't because they don't enjoy the solo. They just don't want to disrupt the music or the next soloist. Other audiences are very demonstrative throughout a song. Both expressions are equally valid and honest for those groups of people.
Business – wise, each country has its own thing going. In the US, a jazz club tends to be a place where people come to hear the music and get a drink and maybe some food. Those venues book a few months in advance and have music at least a couple of nights per week. Many of them don't pay very well, but you can play there with some regularity. In Denmark and Sweden, a jazz club tends to be a group of people that present a concert series with the support of the government, its membership, and ticket sales. They present around 10 concerts per year and they book anywhere from 6-18 months in advance. They pay better per gig, but you won't be able to come back as often.
Germany has a vibrant jazz scene with loads of incredibly talented and creative musicians. I've been very impressed with the venues and festivals I've played at. The presenters are professional and they know how to take good care of the details and the musicians. Because the scene is so strong in Germany, everyone wants to play here. My understanding is that the venues are working on finding that balance between supporting the local talent and allowing others to come in and be a part of that musical conversation.
It takes a lot of time and patience to learn how each region works. When I moved to Denmark, I didn't have any connections to the venues or the people. I've been blessed with great musician colleagues who have opened doors for me and introduced me to the venues and the fans. I'm still learning the nuances of it all, but every year keeps getting better and better.
JP: You are also a member of the Lines for Ladies Band with Anne Czichowsky, Sabine Kühlich, Laia Genc and Sheila Jordan? How you became a member of this vocal Group?
KB: In the jazz world, we all seem to meet through common friends. I was invited to play for Hildener Jazztage a few years ago with a drummer named Peter Baumgärtner. We had a great time playing together. His friend Sabine Kühlich was supposed to be at the concert, but she couldn't make it as she had just given birth to her second son. She contacted me a couple of years later when she and Anne were putting a tour together for Lines For Ladies featuring Sheila Jordan. I was honored to be asked to be a part of the adventure. We had a lot of fun. It would be great to do more, but it is really a challenge to get the pieces to all come together.
JP: Do you have a special relation to Germany?
KB: My dad's side of the family comes from Germany. My great grandfather came to the US from Koblenz. I'm lucky that I've had the opportunity to play so many shows throughout Germany. It is a lovely way to get to know the country's landscape and the people. German audiences are very supportive of the music and they are very focused on what the musicians are sharing.
JP: When are you next in Germany?
KB: I don't have anything booked for this summer, but I'm working towards playing more concerts and festivals in 2019. I'll keep you posted.
JP: Thank you Kristin, for this interview!
KB: Thanks Alex it was a pleasure. Looking forward seeing you at my concert tonight in BIX Jazz Club!